Brothers International and Dennick FruitSource Combine to Form Growing B2B Ingredients Platform. Read More
Brothers All Natural Releases Special Edition Freeze Dried Fruit Crisps Featuring Disney/Pixar "Toy Story 4" branded Packaging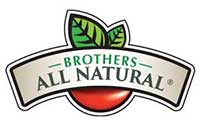 ROCHESTER, NEW YORK (April 22nd 2019) –
Brothers All Natural alongside Disney/Pixar announced the launch of a co-branded assortment of Freeze-Dried Fruit products, featuring characters from the upcoming release of feature film Toy Story 4. The healthy and allergen-conscious snack line will include Toy Story 4 branded Fuji Apples, Apple Cinnamon, Pear and Strawberry Fruit Crisps. These Freeze-Dried Fruit products will be available in grocery stores nationwide in snack-sized bags and colorful Toy Story 4 retail displays. 
 "The passion that these two brands have in supporting parents as they encourage their kids to make healthier food choices is inspiring," stated Robert Larson, Director of Sales at Brothers All Natural. "As one of the country's leaders in healthy snacking, Brothers All Natural is excited to partner with Disney as we believe that together, we can do even more to deliver fun, healthy, fat-free snacks to individuals and families!"
The announcement comes ahead of the 2019 Sweets and Snacks Expo taking place May 21-23 in Chicago, IL (booth #2059), where Brothers All Natural and Disney will showcase multiple co-branded products. Disney/Pixar's  Toy Story 4  is one of the summer's most anticipated films, hitting theaters nationwide Friday, June 21.
Brothers International Food Corporation
Brothers International Food Corporation is a privately-owned company based in Rochester, New York with offices in Shanghai, China, and Quito, Ecuador. The company was founded in 2000 by brothers Travis and Matthew Betters, whose family has been passionately involved in the processed fruit and vegetable industry for more than 70 years. Brothers International has two operating divisions: Healthy Snacks (under the Brothers All Natural and Harvester Farms brands) and Ingredients Division. Brothers International Food Corp. Ingredients Division is a full-service direct importer, distributor and supplier of bulk packaged ingredients for the food and beverage industry. Brothers All Natural is the only Disney licensee to produce freeze-dried products for over ten years, and when introduced was named Disney's Best New Product of the Year. We consistently donate products to Food Link Rochester, Warrior Food Project, North Texas Food Bank and to the Ronald McDonald/ Tom Golisano Children's Hospital.
For more information, visit www.brothersinternational.com and www.brothersallnatural.com. 
Join the conversation! Follow us @BrothersAllNatural or on Facebook at "Brothers-All-Natural."
Contact:
Brothers International Food Corp.
Andy Keane
Marketing Manager
This email address is being protected from spambots. You need JavaScript enabled to view it. 
(585)343-3007